Configure Twilio
You must have a Twilio account to send SMS notifications to customers when orders are ready for pick up.
Note: A trial account cannot be integrated with Inform.
When you have set up your Twilio account submit a case to the Customer Care team and provide the following information from Twilio:
Account SID
Authorization Token
From Cell Number
To Cell Number
The To Cell Number is the number which receives the SMS pick up notification. If you use eCommerce Pro, end users can specify a phone number to send the notification to at checkout. If an order is created in Inform, the Ordered By Contact on the order is notified if there is an associated mobile number.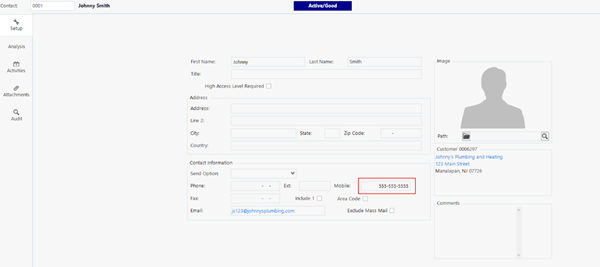 If no number is specified at checkout for orders from the eCommerce Pro site, or if there is no Ordered By Contact or mobile number attached to the Contact for orders originating in Inform, no SMS notification is sent.
Send SMS notifications
When the order is ready for pick up:
Navigate to

Warehouse

>

Sales Order Fulfillment

.
Type or search for the

Sales Order

number.
Select the

Ready to Pick Up

check box.


Note: The Pick Up check box for Ship Via must be selected.

Click

Save

.
The sales order Status is updated to U (Ready for pick up) and an SMS notification is sent to the To Cell Number.