ShipperHQ allows you to view shipping options and costs from multiple carriers before choosing a shipping method. Use the ShipperHQ integration to manage shipping rates and options. ShipperHQ is used for managing outbound freight only.
If you would like more information about ShipperHQ, click here.
For pricing information, open a Support Request and include "ShipperHQ pricing request" in the subject.
The ShipperHQ integration requires Inform version 24.
A product must have a weight added on the Product Purchasing tab to be eligible for ShipperHQ rates and options.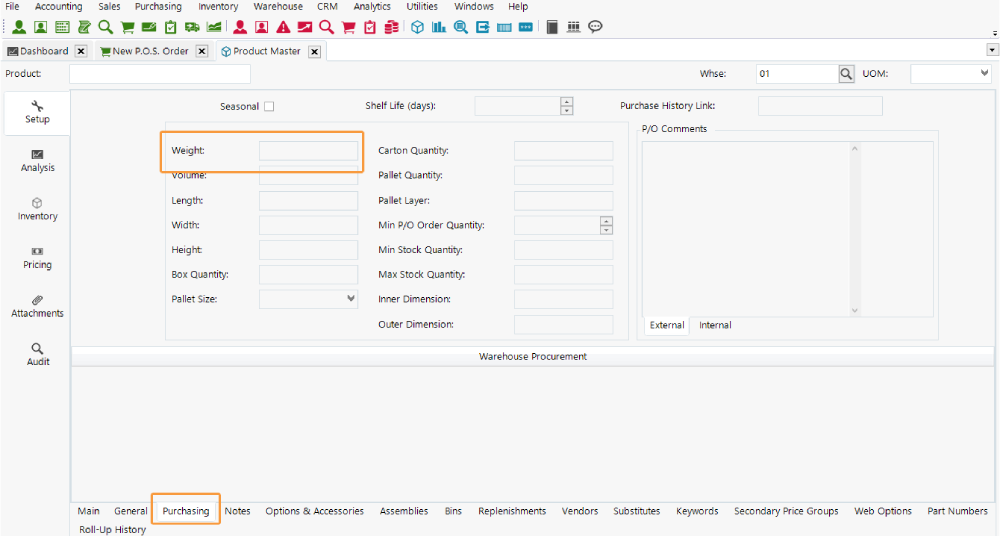 In the

Final

section, click

Quote Freight

.
On the

Quote Freight

dialog, review the shipping options and costs, and select an option.

Notes:
• The shipping options and costs are set up in ShipperHQ.
• Weight limits for shipping methods are set in ShipperHQ, for instance an item weighing over 400 lbs can be set up to return a quote from an LTL carrier.
• ShipperHQ accommodates multiple shipping origins, for example, if you ship from your warehouse, and drop ship from a vendor on a single order, select a shipping estimate for each shipment, and the freight is totaled for all selections.
• Items shipped from the same origin code are grouped together and costs are combined.



Click Select Lowest Rate to select the least expensive shipping options.

Click

Save.
Drop ship
Drop shipments are sorted by vendor and origin in ShipperHQ.
The shipping origin code is determined by the value found in one of these these fields (in this order):

Product master purchasing tab
Vendor master purchasing tab
Third - Vendor master zip code

Items drop shipped from the same vendor origin are combined to present a total for all items shipped.

Stock item / special PO workflow
The warehouse origin zip code is used when items are shipped from stock.
Stock items shipped from the same warehouse are combined to present a total for all items shipped.

ShipperHQ set up
Log in to the ShipperHQ website to set up origins and shipping methods.
Import vendor Origin Codes


Note: Export vendor zip codes in Inform by generating a vendor report. The values can then be imported into ShipperHQ.

Assign carriers
Assign eCommerce websites