Welcome to Inform ERP v24! Our software releases introduce new features and enhancements designed to improve your experience, streamline and automate workflows, and help you deliver operational effectiveness throughout your organization.


Watch the live Release Notes webinar:
New features
InformMobile
Power your sales team with real-time ERP functionality in the palm of your hand. InformMobile is designed with mobility in mind, providing big features on a small smartphone screen so you can service your customers from anywhere.
Build or edit quotes and orders
View and create follow-up tasks
Create new customers and non-stock products
View A/R and send customer invoices
Checkout with credit card payments
Call or email a contact with just one tap
Learn more here or contact sales@ddisys.com for demonstrations and pricing details.
Spreadsheet Cycle Counts & Transfers
Using Excel for inventory counts? Copy the data from your spreadsheet and paste it directly into Inventory Adjustment. Format the data in two columns sequenced as Qty, Product. Optionally, you can append Reason Codes to the end of the sequence (Qty, Product, Reason). Similar functionality can now be found in Stock Transfer Entry as well (expanding on the existing capability already available in sales/purchase orders and product labels).

Vendor Merge
Merging two vendors or renumbering an existing vendor can now be performed from the Vendor Master. To do so, right-click on the vendor number while in edit mode, then select the Change Number option. All history, invoices, and orders will be migrated over to the new vendor account number.
Purchasing Rebates
Track and calculate rebates for vendors with two new rebate reports. First, in the Purchasing Matrix, set your rebate percentages. These will be visible during purchase order entry by adding the Rebate % column via the Field Chooser. Next, choose which report to run from the Purchasing menu. The PO Rebate Report includes all open orders. Alternatively, the Vendor Rebate Invoice Report limits the rebates to only the orders that have been AP invoiced.
Salesperson Dashboard
Back by popular demand, the Salesperson Dashboard. Located on the CRM menu, the dashboard serves as a centralized source for salespeople to track their customer performance, calendar activities, open orders and quotes, AR balances, and more.

Order Cost Update
Product costs can be recalculated on a sales order or quote. This will update to the latest cost, useful for older quotes that may need to be repriced to maintain adequate margins. During order entry, select your item(s), right-click and choose Recalculate Costs. Any product that was previously cost overridden can optionally be updated by checking the Include Overrides box.
ShipperHQ
Inform ERP users can now integrate with ShipperHQ to manage shipping rates and options. ShipperHQ is an eCommerce tool for shipping strategy based on real-world business logic. Select the most efficient and cost effective shipping options at checkout.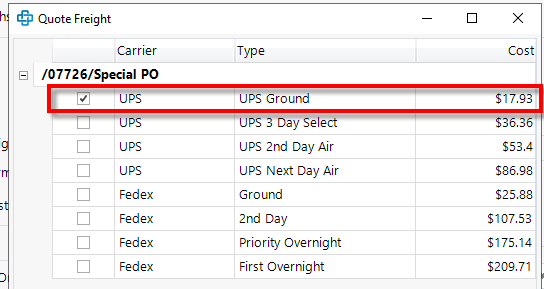 Additional Enhancements
Accounting
Accounts Payable
Payment Schedule Report can now be exported in Excel format.
Accounts Receivable
Added column that displays the Customer number assigned to the invoice, which can identify Child accounts when utilizing Parent AR workflow.
Customer PO Numbers can now have an Expiration Date. Entering this PO into a sales order will warn the order writer when it has expired.
Terms codes can now be set on a Ship To level, overriding the Customer default.
Miscellaneous
Global
Inform is now 64-bit, allowing for improved memory handling.
Inform Upgrade
Client side installs have been made significantly faster. Server side will now prompt for Windows credentials to ensure the program is installed with proper permissions. For more information click here and review the Version 24 and Newer Upgrades section.
System Users & Locks
Now defaults to display local user locks, with a drop down toggle to view server locks.
Pricing
Advanced Report Writer
Price checks from the Johnstone web store can be reported on via the JS.WEB.LOGFILE table.
Ship Via listings are now possible with additional new fields in the SHIP.VIA table.
Salesperson Cost
Users limited to only seeing the salesperson cost field can now have additional cost fields displayed using Company Master Additional Cost Displayed for See Salesperson Cost Users.
Purchasing & Inventory
Forecast
Formulas used for Recurring items can be excluded in the Forecast Parameters setup screen.
Product Analysis
The sales orders tab can be filtered by Order Type for Quotes, Backordered, Completed, etc.
Projected Purchase Order
Added two new Field Chooser selections for Purchasing Whse Available Qty & Purchasing Whse Primary Bin.
Stock Transfers
Now supporting multiple default printers for the drop down selection (configured in the Branch > Printers).
Ship Date & Ship Via now appear in the spyglass search results.
Sales & CRM
Customer Job
Two new columns for Floor Location & Linked PO Number appear after an order has been invoiced (useful for tracking prebilled orders).
Sales Order Entry
Assembly components can print out on price quote form with Company Master setting Print Assembly Components on Quotes.
Lead Days column can be added via the Field Chooser.
Restrict the ability to zero out the quantity ordered when the item is linked to a purchase order with Access Level PROHIBIT CHANGING QTY ORDERED TO ZERO IN S/O IF LINKED TO P/O.
Restrict the vendor selection in Fast Product with new access level ENTER VENDOR IN FAST PRODUCT ENTRY.
Swap Committed Qty feature can optionally be utilized on items with linked procurements with Company Master setting Allow Swap Committed quantities for all Procurement types except Drop Ship.
Sales Order Inquiry
Warehouse column added that displays the shipping warehouse of the order or the line item.
Warehouse Management System
Receiving
Special order putaways (from SPCL-PO bin) will now prompt for the linked sales order. This becomes the Preferred Bin to pick the order from and is visible in Sales Order Entry.
Frequently Asked Questions